Shopping Cart
Your Cart is Empty
There was an error with PayPal
Click here to try again
Thank you for your business!
You should be receiving an order confirmation from Paypal shortly.
Exit Shopping Cart
Yoga 4 Everybody in Arnhem

Yoga for everybody and every body
hatha yoga
kinderyoga
yoga in het park
yoga online
yoga op het werk
yoga en reiki

healing yoga

| | |
| --- | --- |
| Posted on July 22, 2016 at 8:55 AM | |
Ken je die foto's van prachtige yogahoudingen die uitgevoerd worden door modellen met zo'n killerbody? Van die slanke, gespierde lijven met precies die juiste verhoudingen om alle houdingen er mooi uit te laten zien. Niet die net te gespierde of te dunne lichamen, maar die met een perfecte vetverdeling. Nou weten we wel dat fotomodellen er niet als modellen uitzien. Hun lichamen worden langer gemaakt, rimpels en oneffenheden weggehaald en een mooi filtertje zorgt voor een serene uitstraling. Vooral op yogafoto's wordt de indruk gewekt dat je met die houding acuut in staat van zaligheid raakt, je benen tien centimeter verlengt en al je rimpels acuut verdwijnen.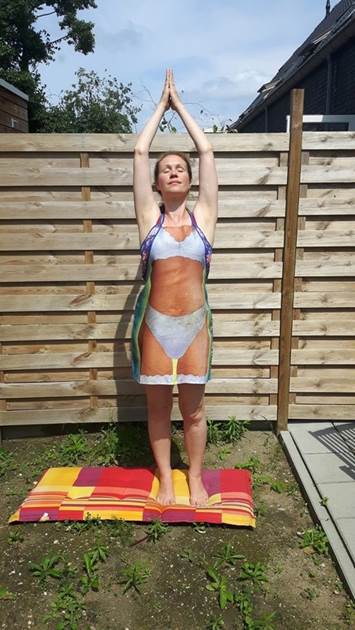 Me and my killerbody

Ik denk dat het een killerbody genoemd wordt omdat men er een spreekwoordelijke moord voor zou doen om ook zo'n lichaam te krijgen. Dat klinkt allemaal erg oppervlakkig en niet-yoga, maar ik zou stiekem ook wel zo'n lichaam willen hebben. Gewoon wat kleine aanpassingen zoals met Photoshop, maar dan in het echt. Alleen zonder te snijden of spuiten.
Tot yoga om de hoek komt kijken. Waren we daarin niet bezig het ego op te lossen? Dat ding dat zich met de aardse zaken bezighoudt en ervoor zorgt dat we zo'n killerbody willen of onze grijze haren willen kleuren en onze rimpels laten opvullen. Door het ego zijn we gehecht aan aardse zaken zoals die killerbody, of materieel bezit.
Het zou mooi zijn als we van die gehechtheid af kwamen, maar het ego zorgt er ook voor dat je kunt functioneren in het dagelijks leven en niet met je ogen dicht de weg oversteekt. Het is alleen de kunst om geen slaaf van je ego te worden.
Ik ben me ervan bewust dat het mijn ego is dat voor dit mooie plaatje gaat, maar ik weet ook dat zo'n killerbody niet bepaalt of ik gelukkig ben of niet. Ik ben er niet aan gehecht.
Waar het mij nog het meest om gaat is dat die lichamen er zo pijnloos en soepel uitzien, net of het geen last heeft van aardse ongemakken. Dus eigenlijk wil ik een lichaam dat altijd lekker voelt en nooit last heeft van ongemak of ziekte. Door yoga leer ik de dingen te laten zijn zoals ze zijn. Bijvoorbeeld pijn in mijn rug bij het rechtop zitten. Hoe meer ik dat doe, hoe minder ik er last van heb. Op zo'n moment ben ik los van aardse gehechtheid, maar sta ik wel met beide benen op de grond. Hoe mijn lichaam er uitziet is op zo'n moment totaal niet belangrijk voor mij. Wat wel telt is hoe goed ik me dan voel, zonder dingen te willen veranderen. Dat gevoel heb ik zeker niet constant, maar wel steeds vaker sinds ik regelmatig yoga doe. Eigenlijk is het gewoon lekker in je vel zitten door de 'killer' te zijn van aardse ongemakken met je gedachten, niet met je body. Daar komt geen fotoshop aan te pas.
Bewaren
Bewaren
Bewaren
Categories: ego, acceptatie, gehechtheid
/