Shopping Cart
Your Cart is Empty
There was an error with PayPal
Click here to try again
Thank you for your business!
You should be receiving an order confirmation from Paypal shortly.
Exit Shopping Cart
Yoga 4 Everybody in Arnhem

Yoga for everybody and every body
| | |
| --- | --- |
| Posted on October 17, 2016 at 8:00 PM | |
Hoge werkdruk

Sinds ik yogales bij bedrijven geef besef ik dat ik dit zelf altijd gemist heb toen ik nog in loondienst werkte. Ik heb veel verschillende banen gehad en daarin vaak last gehad van de hoge werkdruk. Dit zorgde voor stress en gezondheidsproblemen. Daardoor kon ik mijn werk niet altijd goed doen en ik was vaak ziek. Wat ten koste ging van de productiviteit en de kwaliteit van het werk. Daarbij kostte het ziek zijn de werkgevers veel geld. Mij kostte het ziek zijn en de stress over de gevolgen hiervan veel energie. Het maakte me allemaal gefrustreerd en ontevreden. Voor zowel de werkgever als mij als werknemer was dit niet ideaal.
Natuurlijk was het niet altijd zo ernstig en heb ik ook veel plezier in mijn werk gehad. Toch had wat meer ondersteuning op dit gebied me wel zinvol geleken. Voor mij is dit nu voorbij, maar ik zie het nog te veel om me heen. Mensen vinden het heel gewoon dat ze jarenlang te hard werken tot dat ze in een burn-out raken. Vaak gaat dan pas de knop om en gaan ze beter voor zichzelf zorgen, maar zover had het niet hoeven te komen. Bedrijfsyoga kan hier goed bij helpen.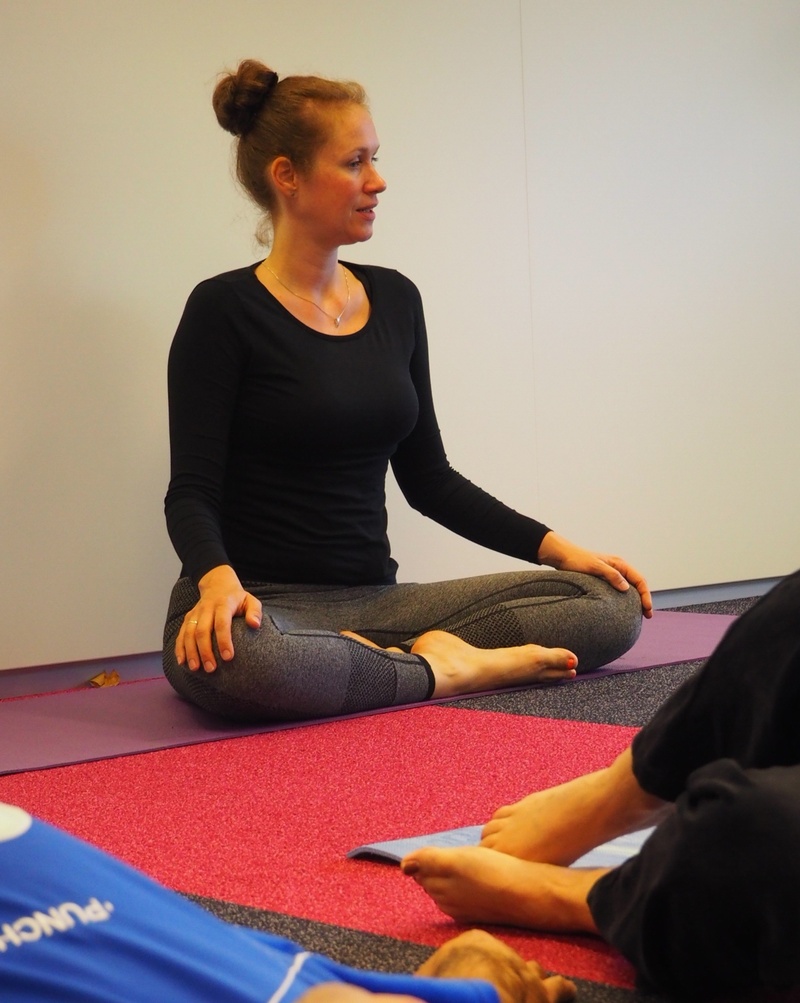 YOGA IN EEN VERGADERRUIMTE: Tafels aan de kant, matten uitrollen, yoga doen en weer aan het werk.

Yoga voor ieder bedrijf


Ik weet dat er veel werksituaties zijn waar het lastig is om yoga op het werk aan te bieden. In het onderwijs, de horeca of de zorg moet er altijd iemand is die door werken. Maar ook daar is een oplossing voor. Bied bijvoorbeeld in samenwerking met andere bedrijven uit het gebouw yoga aan of plan een les na schooltijd voor leerkrachten. In veel sectoren denkt met vaak dat hier geen geld voor is. Maar als het goed is zijn die kosten een investering die zich dubbel en dwars terug verdient.

Nu ik zelf yogales geef merk ik eigenlijk pas hoeveel behoefte ik hier aan had. Yoga op het werk zou me geholpen hebben om efficiënter te werken doordat ik er fitter van word en me er beter door kan concentreren. Door yoga heb ik mijn grenzen leren kennen en dat helpt me beter om te gaan met stress, waardoor ik minder snel ziek of overbelast raak. Ook leert het me eerder aan de bel trekt als er problemen zijn en het niet blijft  sudderen.





Blije werknemers


Op de lessen die ik geef bij bedrijven krijg ik veel positieve reacties. Ik hoor van meerdere mensen dat ze na de les met meer concentratie kunnen werken en meer energie hebben. Maar ook heel waardevol is het dat ze zich gewaardeerd voelen door hun werkgever en dit op hun beurt weer waarderen. Ik denk dat het een groot verschil maakt voor een bedrijf wanneer het personeel de gelegenheid krijgt om op het werk aan hun gezondheid te werken. Ik hoor veel om me heen hoe hard mensen moeten werken en hoeveel energie hen dat kost. Gelukkig weet ik dat het ook anders kan, omdat ik het zelf heb ervaren. Ik heb geen yoga op mijn werk, mijn werk is yoga! Sinds ik dit doe ben ik stukken fitter, rustiger en kan ik beter omgaan met stress.

Vroeger sleepte ik me weleens ziek naar mijn werk en kon ik niet wachten tot de dag voorbij was. Alles om me maar niet weer ziek te hoeven melden. Uiteindelijk werd ik dan vaak toch nog echt ziek en duurde het langer dan wanneer ik me meteen ziek had gemeld. Maar ja, die werkdruk maakte mij zogenaamd onmisbaar. Inmiddels weet ik dat ik niet onmisbaar ben, maar yoga is wel onmisbaar voor mij!



Wil jij ook yoga op je werk? Neem dan contact op voor een introductieles- of cursus.

Bewaren

Bewaren

Bewaren

Bewaren

Bewaren

Bewaren

Bewaren

Categories: bedrijfsyoga, yoga op het werk

0

/