Shopping Cart
Your Cart is Empty
There was an error with PayPal
Click here to try again
Thank you for your business!
You should be receiving an order confirmation from Paypal shortly.
Exit Shopping Cart
Yoga 4 Everybody in Arnhem

Yoga for everybody and every body
hatha yoga
kinderyoga
yoga in het park
yoga online
yoga op het werk
yoga en reiki

healing yoga

| | |
| --- | --- |
| Posted on December 19, 2016 at 8:20 AM | |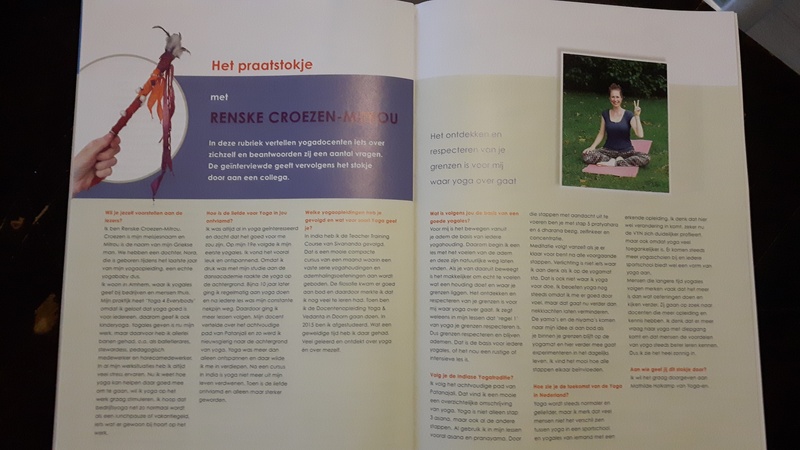 De Vereniging Yogadocenten Nederland heeft mij geïnterviewd voor hun tijdschrift. Hierin wordt iedere keer een yogadocent gevraagd naar zijn ervaring met yoga en lesgeven.
Ik vind het leuk om te lezen hoe andere docenten yoga beoefenen en wat hun visie is, maar ik vond het ook heel leuk om hier zelf over te mogen vertellen.
Wil je het interview lezen? Hieronder staat het!
Het Praatstokje
In deze rubriek vertellen yogadocenten iets over zichzelf en beantwoorden zij een aantal vragen. De geïnterviewde geeft vervolgens het stokje door aan een collega.
Wil je jezelf voorstellen aan de lezers?
Ik ben Renske Croezen-Mitrou, Croezen is mijn meisjesnaam en Mitrou is de naam van mijn Griekse man. We hebben een dochter, Nora, die is geboren tijdens het laatste jaar van mijn yogaopleiding, een echte yogababy dus.
Ik woon in Arnhem, waar ik yogales geef bij bedrijven en mensen thuis. Mijn praktijk heet Yoga 4 Everybody omdat ik geloof dat yoga goed is voor iedereen, daarom geef ik ook kinderyoga. Yogales geven is nu mijn werk, maar daarvoor heb ik allerlei banen gehad, o.a. als balletlerares, stewardess, pedagogisch medewerker en horecamedewerker. In al mijn werksituaties heb ik altijd veel stress ervaren. Nu ik weet hoe yoga kan helpen daar goed mee om te gaan, wil ik yoga op het werk graag stimuleren. Ik hoop dat bedrijfsyoga net zo normaal wordt als een lunchpauze of vakantiegeld, iets wat er gewoon bij hoort op het werk.
Hoe is de liefde voor Yoga in jou ontvlamd?
Ik was altijd al in yoga geïnteresseerd en dacht dat het goed voor me zou zijn. Op mijn 19e volgde ik mijn eerste yogales. Ik vond het vooral leuk en ontspannend. Omdat ik druk was met mijn studie aan de dansacademie raakte de yoga op de achtergrond. Bijna 10 jaar later ging ik regelmatig aan yoga doen en na iedere les was mijn constante nekpijn weg. Daardoor ging ik meer lessen volgen. Mijn docent vertelde over het achtvoudige pad van Patanjali en zo werd ik nieuwsgierig naar de achtergrond van yoga. Yoga was meer dan alleen ontspannen en daar wilde ik me in verdiepen. Na een cursus in India is yoga niet meer uit mijn leven verdwenen. Toen is de liefde ontvlamd en alleen maar sterker geworden.
Welke yogaopleidingen heb je gevolgd en wat voor soort Yoga geef je?
In India heb ik de Teacher Training Course van Sivananda gevolgd. Dat is een mooie compacte cursus van een maand waarin een vaste serie yogahoudingen en ademhalingsoefeningen aan wordt geboden. De filosofie kwam er goed aan bod en daardoor merkte ik dat ik nog veel te leren had. Toen ben ik de Docentenopleiding Yoga & Vedanta in Doorn gaan doen. In 2015 ben ik afgestudeerd. Wat een geweldige tijd heb ik daar gehad. Veel geleerd en ontdekt over yoga én over mezelf.
Wat is volgens jou de basis van een goede yogales?
Voor mij is het bewegen vanuit je adem de basis van iedere yogahouding. Daarom begin ik een les met het voelen van de adem en deze zijn natuurlijke weg laten vinden. Als je van daaruit beweegt is het makkelijker om echt te voelen wat een houding doet en waar je grenzen liggen. Het ontdekken en respecteren van je grenzen is voor mij waar yoga over gaat. Ik zeg weleens in mijn lessen dat "regel 1" van yoga je grenzen respecteren is. Dus grenzen respecteren en blijven ademen. Dat is de basis voor iedere yogales, of het nou een rustige of intensieve les is.
Volg je de Indiase Yogatraditie?
Ik volg het achtvoudige pad van Patanajali. Dat vind ik een mooie een overzichtelijke omschrijving van yoga. Yoga is niet alleen stap 3 asana, maar ook al de andere stappen. Al gebruik ik in mijn lessen vooral asana en pranayama. Door die stappen met aandacht uit te voeren ben je met stap 5 pratyahara en 6 dharana bezig, zelfinkeer en concentratie.
Meditatie volgt vanzelf als je er klaar voor bent na alle voorgaande stappen. Verlichting is niet iets waar ik aan denk als ik op de yogamat sta. Dat is ook niet waar ik yoga voor doe. Ik beoefen yoga nog steeds omdat ik me er goed door voel, maar dat gaat nu verder dan nekklachten laten verminderen.
De yama's en de niyama's komen naar mijn idee al aan bod als je binnen je grenzen blijft op de yogamat en hier verder mee gaat experimenteren in het dagelijks leven. Ik vind het mooi hoe alle stappen elkaar beïnvloeden.
Hoe zie je de toekomst van de Yoga in Nederland?
Yoga wordt steeds normaler en geliefder, maar ik merk dat veel mensen niet het verschil zien tussen yoga in een sportschool en yogales van iemand met een erkende opleiding. Ik denk dat hier wel verandering in komt, zeker nu de VYN zich duidelijker profileert, maar ook omdat yoga veel toegankelijker is. Er komen steeds meer yogascholen bij en iedere sportschool biedt wel een vorm van yoga aan.
Mensen die langere tijd yogales volgen merken vaak dat het meer is dan wat oefeningen doen en kijken verder. Zij gaan op zoek naar docenten die meer opleiding en kennis hebben. Ik denk dat er meer vraag naar yoga met diepgang komt en dat mensen de voordelen van yoga steeds beter leren kennen. Dus ik zie het heel zonnig in.
Aan wie geef jij dit stokje door?
Ik wil het graag doorgeven aan Mathilde Holkamp van Yoga-en.
Bewaren
Bewaren
Categories: yoga op het werk, adem, asana
/