Shopping Cart
Your Cart is Empty
There was an error with PayPal
Click here to try again
Thank you for your business!
You should be receiving an order confirmation from Paypal shortly.
Exit Shopping Cart
Yoga 4 Everybody in Arnhem

Yoga for everybody and every body
hatha yoga
kinderyoga
yoga in het park
yoga online
yoga op het werk
yoga en reiki

healing yoga

| | |
| --- | --- |
| Posted on January 2, 2017 at 8:45 AM | |
Iedere dag mediteren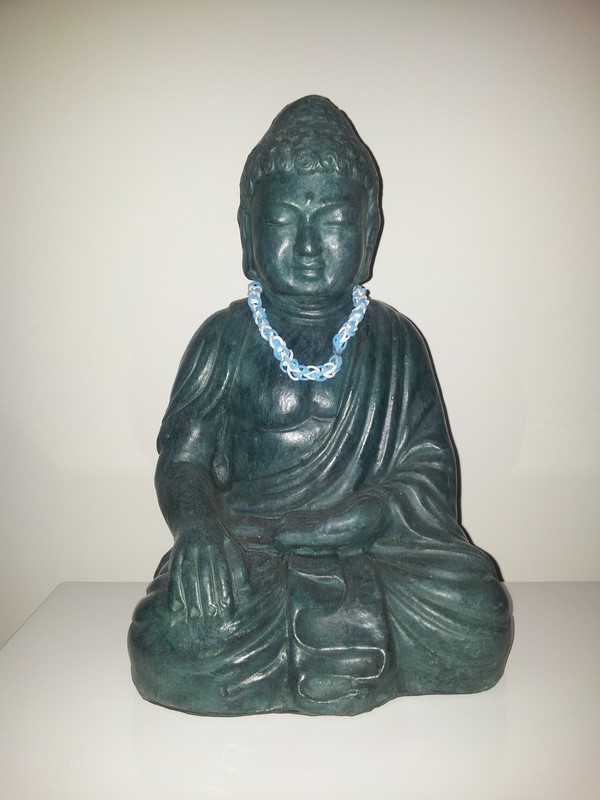 Een van mijn goede voornemens van 2017 is iedere dag minimaal 15 minuten te mediteren. Een ander voornemen is om me niet druk te maken als dat niet lukt. Ik wil vooral beter in balans blijven ongeacht wat er om me heen gebeurt. Iedere dag mediteren helpt me daarbij en het maakt me rustiger in mijn hoofd. Ik kan nogal goed nadenken en doe dat dan ook veel, soms té veel. Dan zit ik al mediterend te bedenken wat ik allemaal nog wil of moet of kan doen,
of gedaan heb,
en wat anderen gedaan hebben en niet hadden moeten doen,
of juist goed gedaan hebben,
en hoe ik daar op kan reageren
of gereageerd had kunnen hebben...of...of...en...en...
Toen waren die 15 minuten al weer voorbij.
Aandacht op één ding
Mediteren is niet hetzelfde als aan niets denken. Je richt je aandacht juist op één ding. Alleen dat ene punt of object en laat de rest voor wat het is. Gedachten mogen als wolken aan de hemel voorbij drijven. Je hoeft ze niet te negeren, maar gaat er ook niet op in. Zodra je merkt dat je dat toch doet keer je met je aandacht weer terug naar je punt van aandacht.
Dit gaat steeds makkelijker als je het regelmatig doet. Ik heb periodes gehad waarin ik iedere dag twee keer mediteerde. Het ging toen steeds makkelijker en ik droomde minder weg. Dat had tot gevolg dat ik van binnen rustiger werd en me beter kon concentreren. Heel fijn.
Volgens een oud Zen-gezegde moet je iedere dag minimaal 20 minuten mediteren en als je daar geen tijd voor hebt een uur. Dat klinkt misschien onlogisch, maar door de rust en concentratie die je krijgt van het mediteren win je juist tijd. Je werkt efficiënter op allerlei vlakken. Bijvoorbeeld achter je bureau, met boodschappen doen of tijdens het huishouden. Hoe meer je mediteert, hoe groter het resultaat. Dus als je te weinig tijd hebt is het zinvol om meer tijd vrij te maken voor meditatie.
Routine krijgen en volhouden
Het is alleen een kwestie van routine krijgen en niet eerst andere dingen doen. Als ik me eerst op Netflix stort is de kans groot dat ik niet meer ga mediteren. Hoe verleidelijk het ook is, eerst moet ik de meditatie doen en dan mag de tv aan. Ook die discipline vinden wordt makkelijker als je het een tijdje geoefend hebt. Na een tijdje merk je de voordelen en wordt het makkelijker om je nieuwe routine vol te houden.
Hoe langer je niet mediteert, hoe lastiger het is om er een dagelijkse gewoonte van de maken. Je moet er eigenlijk gewoon mee beginnen en niet nadenken over dat het nu iedere dag 'moet'. Maar hoe mediteer je dan? Er zijn veel manieren om te mediteren. Eigenlijk is mediteren helemaal geen werkwoord, het is een staat van zijn -meditatie- die je kunt vinden door meditatie-oefeningen te doen. Ik heb dit geleerd door me op mijn ademhaling te richten. Ik benoem in gedachten wanneer mijn inademing komt en wanneer de uitademing. In, uit, in uit... tot ik afgeleid raak en dan begin ik opnieuw. Dit doe ik de hele tijd tot ik in die staat van meditatie kom of tot de timer gaat. Wat ik ermee doe is gedachten buitensluiten en mijn aandacht op één punt richten. Of je nou in meditatie raakt of niet, het heeft altijd een goede uitwerking. Probeer het maar en je merkt wat het voor jou doet.
Wat het voor mij deed lees je hier.

Bewaren
Bewaren
Categories: meditatie, adem, iedere dag mediteren
/