Shopping Cart
Your Cart is Empty
There was an error with PayPal
Click here to try again
Thank you for your business!
You should be receiving an order confirmation from Paypal shortly.
Exit Shopping Cart
Yoga 4 Everybody in Arnhem

Yoga for everybody and every body
Hatha yoga
Kinderyoga
Yoga in het park
Fast pilates
Holistische reiki
Luisterkind

| | |
| --- | --- |
| Posted on January 23, 2017 at 11:50 AM | |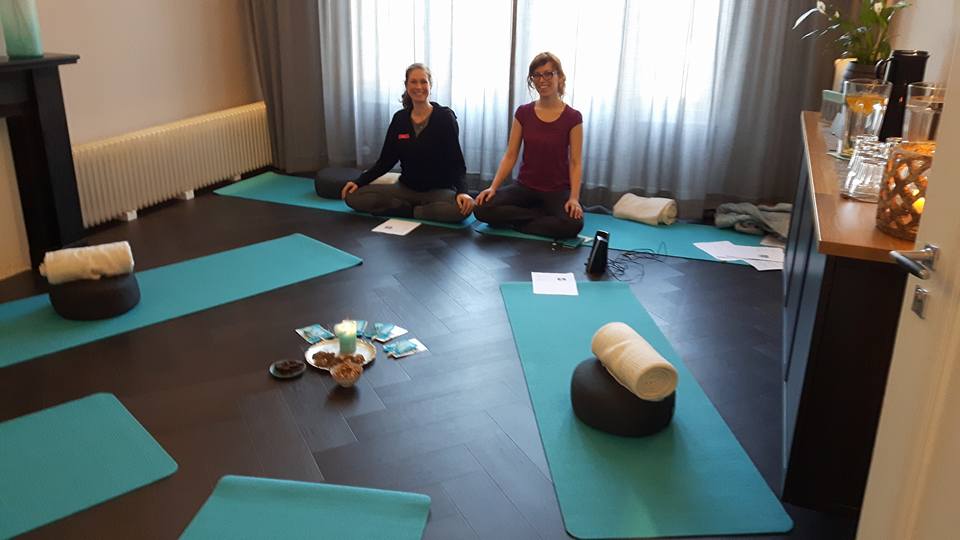 Gisteren gaf ik samen met holistisch masseuse en voedingsconsulente Elise Brand van Elysia een workshop over de kracht van de vrouwelijke cyclus. Onze maatschappij is niet echt ingesteld op de schommelingen die deze teweegbrengt. Vrouwen moeten mee in de maatschappij die vooral op mannen is gericht, terwijl ze daar niet voor gemaakt zijn. Iedere fase van de vrouwelijke cyclus heeft namelijk andere kwaliteiten en die kun je niet in een vast ritme dwingen. Wanneer vrouwen het ritme van de huidige maatschappij volgen zullen ze meestal hun natuurlijke behoeften voorbij gaan en daarmee hun kwaliteiten minder benutten. Yoga kan hier goed bij ondersteunen, want yoga brengt je hele systeem in balans en daarmee ook je hormoonstelsel.

Pas je activiteiten aan

In de ene fase heb je bijvoorbeeld meer behoefte om je terug te trekken en in een andere fase juist niet. Nu is dit vooral binnen de werksituatie niet altijd mogelijk om je daar volledig naar te richten, maar daarbuiten kun je je activiteiten vaak wel aanpassen.Ook je yogabeoefening kun je daarop aanpassen. Bijna alle yogahoudingen kun je op een makkelijke manier, maar ook intensief doen. Kies voor de vorm die op dat moment bij je past. Maak bijvoorbeeld de spreidstand bij de krijger (virabhadrasana 1 en 2)groter om de houding zwaarder te maken of richt je meer op het contact van je voeten met de grond in de houding met een kleinere spreidstand om het rustig te houden. Of varieer in de brug (setu bandhasana) in hoe hoog je het bekken optilt. De schouderstand wordt afgeraden tijdens de menstruatie, daarvoor zou je de L-houding (urdhva prasarita padasana) kunnen doen, eventueel met de benen tegen de muur. Maar ik ben van mening dat als het goed voelt je de schouderstand ook tijdens de menstruatie mag doen. Het belangrijkste is dat je voelt. Dat voelen oefen je in iedere yogales. Voel hoe het vandaag is zodat je daar je yogabeoefening op aan kunt passen.
Fasen van de cyclus

In onze workshop vertelde Elise over de vier fasen binnen de cyclus en welke kwaliteiten daarbij horen. Dus wat je op dat moment goed kunt, maar ook wat je beter op en ander moment kan doen. Zij legde de link naar voeding die kan ondersteunen om de desbetreffende fase beter te laten verlopen. Ik gaf yogaoefeningen om bewust te voelen en leerde hoe je per houding kunt onderzoeken wat je die dag aan kunt. Als je asana's op die manier uitvoert heeft dat als bijwerking dat je daarna, of al tijdens de oefening, makkelijk kunt ontspannen. Ontspanning is belangrijk omdat stress een behoorlijk negatieve invloed op ons lichaam heeft. Het kan zelfs je cyclus uit balans brengen en menstruatieklachten geven.
Kennis van de fasen van de cyclus kan je helpen deze beter te begrijpen en hiernaar te handelen. Ik wist dit tot voor kort niet en volg de fasen nu beter. Het is fijn als ik begrijp waarom ik de ene week moe ben en de andere juist bruis van de energie. Of waarom ik de ene week moeiteloos blogs schrijf en nieuwe contacten leg en de week daarna weer niet. Nu ik dit weet kan ik mijn activiteiten hierop afstemmen. Natuurlijk is dit niet altijd te plannen, maar wanneer dat wel kan raad ik het zeker aan. Ook kan het voor iedereen weer anders zijn. De een reageert nu eenmaal heftiger op deze hormoonveranderingen dan de ander. Het komt er voor mij vooral op neer dat leren voelen essentieel is en handelen naar wat er op dat moment is nog meer.
Bewaren
Categories: asana, ontspanning
/