Shopping Cart
Your Cart is Empty
There was an error with PayPal
Click here to try again
Thank you for your business!
You should be receiving an order confirmation from Paypal shortly.
Exit Shopping Cart
Yoga 4 Everybody in Arnhem

Yoga for everybody and every body
Hatha yoga
Kinderyoga
Yoga in het park
Fast pilates
Holistische reiki
Luisterkind

| | |
| --- | --- |
| Posted on February 8, 2017 at 6:25 AM | |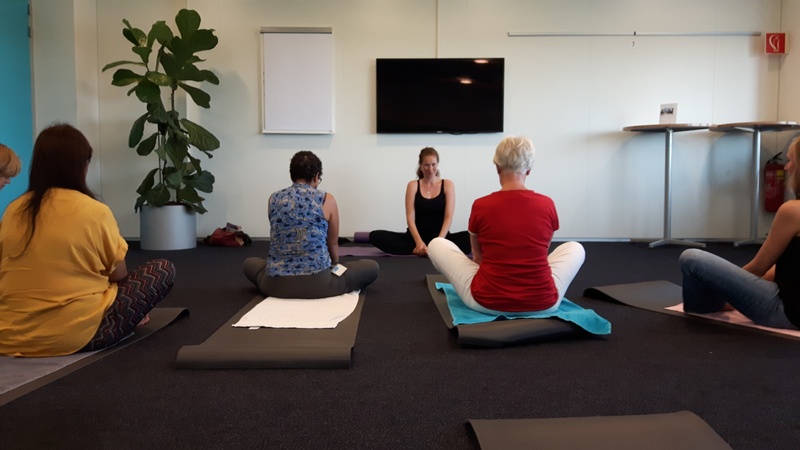 Na iedere les bedrijfsyoga ben ik weer blij met de reacties van de deelnemers. Ik wil mensen laten ervaren wat yoga voor hen kan doen en merk dat het lukt. Regelmatig yoga beoefenen brengt je geestelijk en lichamelijk in balans. Wat je helpt beter om te gaan met stress, fysiek soepeler en sterker te worden en je beter te concentreren.
Je kunt niet 8 uur per dag effectief aan het werk zijn. Daarom kun je dus prima een deel van die tijd bezig zijn met lichaam en geest in balans brengen. Veel beter dan urenlang stilzitten achter je bureau. Deze werktijd waarin niet geproduceerd wordt verdient zich in feite terug omdat werknemers er productiever door worden en minder vaak ziek zijn. Van sommige mensen hoorde ik terug dat ze na hun yogales in de lunchpauze efficiënter door konden werken en 's avonds minder moe waren. Anderen vertelden dat yoga hen hielp om meer te ontspannen. Ook waardeerden ze het dat hun werkgever de mogelijkheid aanbiedt om aan hun gezondheid en vitaliteit te werken, op de werkvloer. Samen met het onderlinge contact met de andere yogadeelnemers zorgt dit voor een goede sfeer in het bedrijf.
Wanneer mensen de voordelen van yoga op het werk ervaren zijn ze geneigd om ook in hun vrije tijd yoga te doen of meer te bewegen. Dat gaat ook makkelijker omdat ze zich fitter voelen. Yoga doet hen goed wat motiveert dit vaker te doen. Daar profiteren zowel het bedrijf als deze yogi's van.


De effecten van yoga
Met yoga verbeteren de lichaamsfuncties, zoals de bloedsomloop, spijsvertering en het zenuwstelsel. Hierdoor verbetert de weerstand en nemen vage klachten af. Door het versoepelen en versterken van het lichaam worden bijvoorbeeld rug- en nekklachten voorkomen of verminderen deze.
Yoga doe je met aandacht en rust en dat vergroot je bewustzijn en concentratievermogen. Het leert je beter te voelen wat er gaande is. Dat maakt je niet alleen fysiek, maar ook mentaal sterker. Zo kun je stress-situaties beter aan en voel je sneller wat je nodig hebt, waardoor je minder snel over je grenzen gaat en jezelf uitput. Als je toch ziek wordt kan yoga helpen sneller te herstellen.
Dit heb ik allemaal zelf ervaren met yoga. Omdat ik daar zo enthousiast over was ben ik les gaan geven. Ik vind het geweldig dat anderen deze voordelen ook merken. Steeds meer bedrijven zien in dat yoga hun personeel en bedrijfsprocessen kan ondersteunen. Dat noem ik een geweldige ontwikkeling. Als deze zich voortzet zullen er veel meer tevreden en gezonde werknemers bij komen, wat goed is voor het het bedrijf én de werknemers.
Bewaren
Categories: bedrijfsyoga, yoga op het werk
/