Shopping Cart
Your Cart is Empty
There was an error with PayPal
Click here to try again
Thank you for your business!
You should be receiving an order confirmation from Paypal shortly.
Exit Shopping Cart
Yoga 4 Everybody in Arnhem

Yoga for everybody and every body
Hatha yoga
Kinderyoga
Yoga in het park
Fast pilates
Holistische reiki
Luisterkind

| | |
| --- | --- |
| Posted on March 6, 2017 at 6:45 AM | |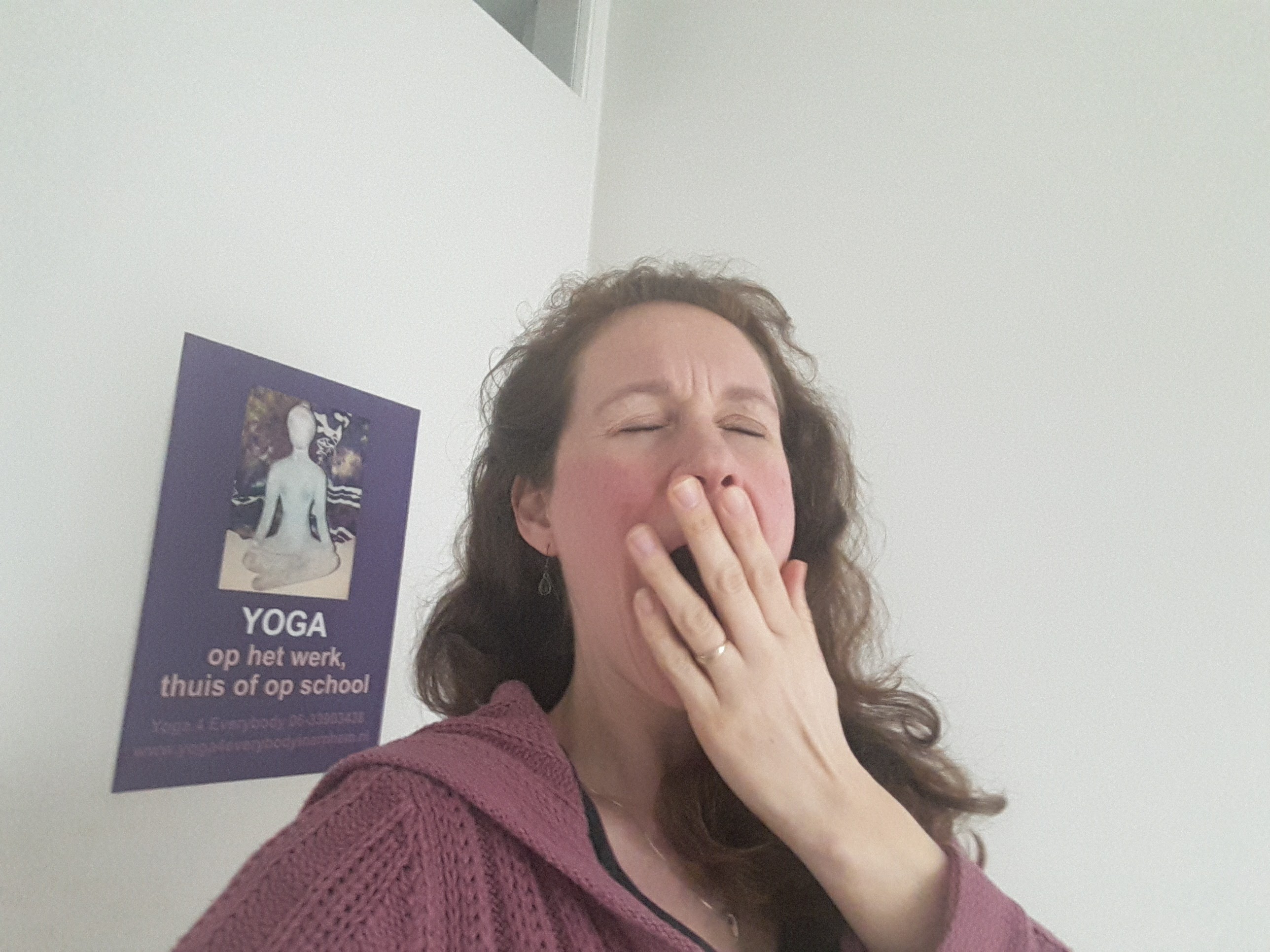 Je rekt je uit, bedekt netjes je mond terwijl je gaapt en....er komt een opmerking: "Vanavond vroeg naar bed", "Ben ik zo slaapverwekkend?" of iets anders waar ik kriebelig van word. Laat me gewoon gapen en bemoei je er niet mee. Ik heb niks tegen gapen, maar de wereld om mij heen wel. Dat snap ik niet. Gapen is toch eigenlijk gewoon diep ademhalen?
Als het lichaam wil gapen moet je dat toelaten. Hoe voel je je daarna? Ik merk dat gapen ontspannend werkt en helpt los te laten. Geweldig, want ontspannen en loslaten op commando werkt vaak averechts. Of wellicht is het de ontspanning die het gapen teweeg brengt.
Vaak als je een paar keer diep in- en uitademt begin je vaak vanzelf te gapen. Diep en rustig ademen is een simpele oefening om spanning los te laten. Daar begin ik vaak mee in de yogales. Misschien voelt het wat onwennig om in een groep te doen. Oefen het dan rustig thuis als je alleen bent. Maar houd het gapen niet tegen. En zeg vooral geen sorry als je gaapt.


Frisse lucht voor je hersenen
Wat gapen precies is weten wetenschappers ook niet. Er zijn verschillende onderzoeken geweest, maar nergens blijkt echt duidelijk uit hoe het zit. Een uitleg is dat het lichaam meer zuurstof binnen probeert te krijgen via gapen. Dat vind ik best aannemelijk klinken. Een andere theorie die ik gehoord heb is dat het dient om de lichaamstemperatuur te reguleren. Het zou je hersenen afkoelen zodat ze niet oververhit raken. Je gaapt sneller wanneer de omgevingstemperatuur hoger is dan je lichaamstemperatuur, dus dat kan wel kloppen.
Volgens mij heb ik nog nooit uit verveling gegaapt, maar wel als ik moe ben. Ik kan me dus goed voorstellen dat gapen dient om extra zuurstof op te nemen in het lichaam. Het lichaam vraagt om energie en de snelste manier is om dat op te nemen uit de zuurstof die overal om ons heen is.


Laat elkaar lekker gapen
Tijdens de theorielessen op de yogaopleiding zat ik ook vaak te gapen. Absoluut niet omdat het saai was, maar het stil zitten in de muffe binnenlucht maakte me moe. Waarschijnlijk wilde mijn lichaam die extra zuurstof binnenhalen of raakten mijn hersenen oververhit van alle informatie. Met name de interessante filosofielessen hadden een overweldigende uitwerking op mijn hersenen, omdat de theorie zo diepzinnig is. Toen we een keer buiten theorieles hadden gaapte ik helemaal niet. Ook voelde ik me een stuk fitter. De frisse lucht zorgde waarschijnlijk voor voldoende afkoeling voor mijn hersenen en voor zuurstof om alert te blijven.
Maar als je toch gaapt heeft dat kennelijk een reden. Dus trek je niets aan van wat anderen daarvan vinden. En zullen we er dan ook niets meer van zeggen met zijn allen? Lijkt me heerlijk. Gaap dus zoveel je wilt. Gaap in, gaap uit en gaap vooral lekker mee!
Bewaren
Bewaren
Bewaren
Categories: adem, ontspanning
/