Shopping Cart
Your Cart is Empty
There was an error with PayPal
Click here to try again
Thank you for your business!
You should be receiving an order confirmation from Paypal shortly.
Exit Shopping Cart
Yoga 4 Everybody in Arnhem

Yoga for everybody and every body
Hatha yoga
Kinderyoga
Yoga in het park
Fast pilates
Holistische reiki
Luisterkind

| | |
| --- | --- |
| Posted on April 10, 2017 at 10:00 AM | |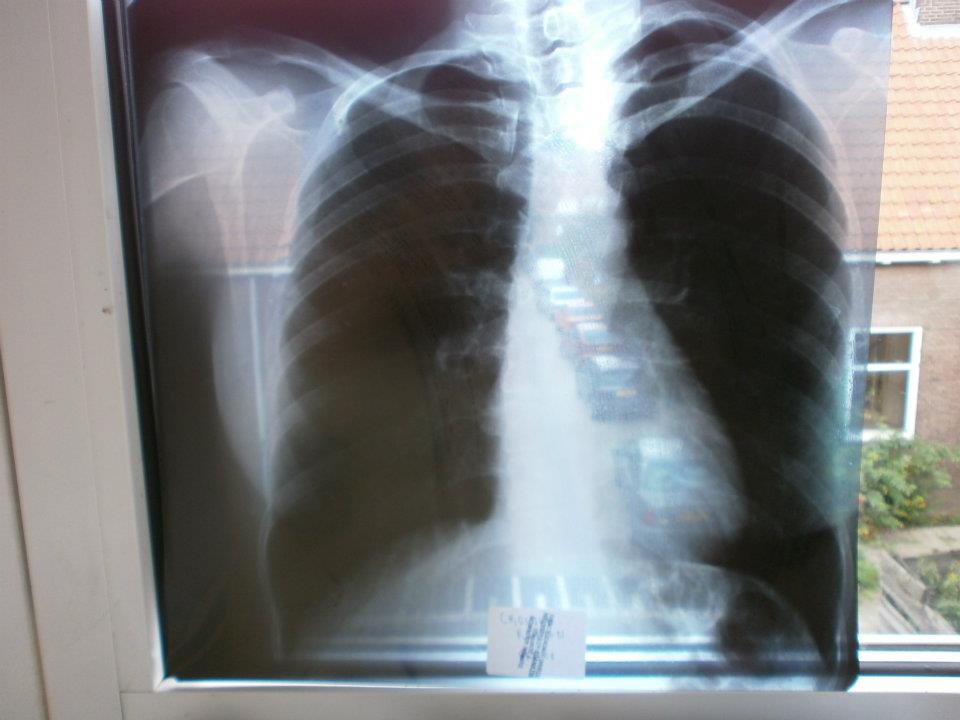 Mijn wervelkolom van de voorkant gezien (op het keukenraam geplakt. : ) )
De wervelkolom kan vier kanten op bewegen:
voorover
achterover
opzij
draaien
Goed, naar links én naar rechts, dus 5 kanten. Of een combinatie van deze richtingen, bijvoorbeeld voorover en dan draaien.
De wervelkolom begint bij het staartbeen, dat zijn 3 of 4 met elkaar vergroeide wervels, daarboven het heiligbeen dat bestaat uit 5 vergroeide wervels, dan 5 lendenwervels, 12 borstwervels en 7 halswervels, die allemaal ten opzichte van de wervel ervoor of erna los kunnen bewegen. Tijdens bewegingen met de rug voel je vaak dat bepaalde delen van je rug minder makkelijk bewegen dan andere delen. Vooral in een yogales wanneer je bewust let op wat er in je lichaam gebeurt kun je dit merken.
Scheve rug
Door yoga heb ik gemerkt dat mijn wervelkolom behoorlijk uit balans is. Ik heb een scoliose, maar heb daarmee toch de dansacademie kunnen doen. In een balletles doe je ook alle bewegingen beide kanten op om de spieren gelijkmatig te trainen. Vaak heb je wel een voorkeurskant. Draai je linksom makkelijker of doe je een spagaat liever met je rechterbeen voor. Als je dat merkt train je gewoon de andere kant harder om het in balans te krijgen. Je gaat niet onderzoeken waar het vandaan komt. Bij yoga doe je alles wat je naar rechts doet ook naar links. Maar je doet het met bewustzijn van wat er in je lichaam gebeurt, zonder doel. Bij dans is het doel het zo goed en mooi mogelijk te doen, koste wat kost.
Beide methodes zorgen ervoor dat je recht en symmetrisch blijft. Het gaat in yoga niet om hoe de houding eruit ziet of hoe ver je met je handen naar je tenen gaat, maar om wat je voelt. Als dat niet goed voelt ga je minder ver. Door de houdingen waar je grote verschillen voelt tussen links en recht te blijven oefenen worden die verschillen uiteindelijk minder. Omdat je bij dans er niet op let of het goed voelt had ik nooit door dat bepaalde bewegingen door mijn scheve rug lastiger waren.
Voorkeurshouding
Nu merk ik steeds beter dat ik vaak naar dezelfde kant leun omdat ik dan mijn eigen kromming van de rug volg. Heel logisch, maar daarmee vergroot ik deze uiteindelijk. Zo lig ik het liefst op mijn linkerzij, dan buigen de bovenste wervels met de scoliose mee naar rechts en lig ik lekker. Om te voorkomen dat ik echt krom groei ga ik vaker op mijn andere zij liggen. Eerst voelde dat vervelend en deed ik het heel kort. Nu kan ik ook op mijn rechtzij slapen.
Iedereen heeft wel plekken in zijn wervelkolom die niet helemaal goed zitten. Als je daar niks mee doet verergert dat. Veel oudere mensen hebben een sterke kromming naar voren in de bovenrug. Ons hele leven zijn we veel naar voren gericht; autorijden, naar beeldschermen kijken, koken, lezen of voor kinderen of een huisdier zorgen. Geen wonder dat we voorover groeien.

Rechtop door yoga
Ken je die yogi's van in de 80 die helemaal rechtop staan zonder rugproblemen? De yoga helpt hun rug gezond en recht te houden. Nu hoef je niet meteen iedere dag naar yoga te gaan, maar het is wel een goed idee om iedere dag een achteroverbuiging te doen. De sfinx, cobra, de boog of zelfs de krokodil kun je gewoon op je bed doen voor je gaat slapen. Doe een staande halve maan of rek je gewoon lekker uit. Hier vind je deze houdingen, maar als je er niet uitkomt kun je altijd naar een yogales komen of een afspraak maken.
Huiswerk
Yoga kun je ook in je leven integreren door tussendoor even voorover, achterover en opzij te buigen. Een draaiing kun je heel makkelijk zittend op je (bureau)stoel doen of op de bank. Begin maar vast met deze "huiswerkopdracht":
Neem minstens drie keer per dag bewust de stand van je rug waar. Ben je geneigd om steeds een kant op te bewegen? Probeer dat af en toe ook de andere kant op te doen. Misschien heb je een voorkeurshouding waar je je nog niet bewust van was.
In de kat kun je ook goed voelen wat er met je rug gebeurt. Daarbij maakt hij de rug soepel.
KAT – BIDALASANA
begin in de kruiphouding
op je uitademing maak je de rug bol
op de uitademing hol
herhaal dit zolang het goed voelt
adem door met een bolle rug en met een holle rug
De beweging begint bij het bekken, zitbotten naar de grond laten wijzen en daarna naar het plafond. De wervels volgen een voor een, een soort wave dus. Kom uit de houding en voel na (lijkhouding – savasana of kindhouding – balasana).
Voel welke delen van je rug soepel zijn en welke delen niet. Let ook op of er na verloop van tijd verandering komt.
Veel succes! Ik hoor graag hoe het ging.

Bewaren
Bewaren
Categories: achteroverbuiging, vooroverbuiging, asana
/