Shopping Cart
Your Cart is Empty
There was an error with PayPal
Click here to try again
Thank you for your business!
You should be receiving an order confirmation from Paypal shortly.
Exit Shopping Cart
Yoga 4 Everybody in Arnhem

Yoga for everybody and every body
Hatha yoga
Kinderyoga
Yoga in het park
Fast pilates
Holistische reiki
Luisterkind

| | |
| --- | --- |
| Posted on May 31, 2017 at 9:25 AM | |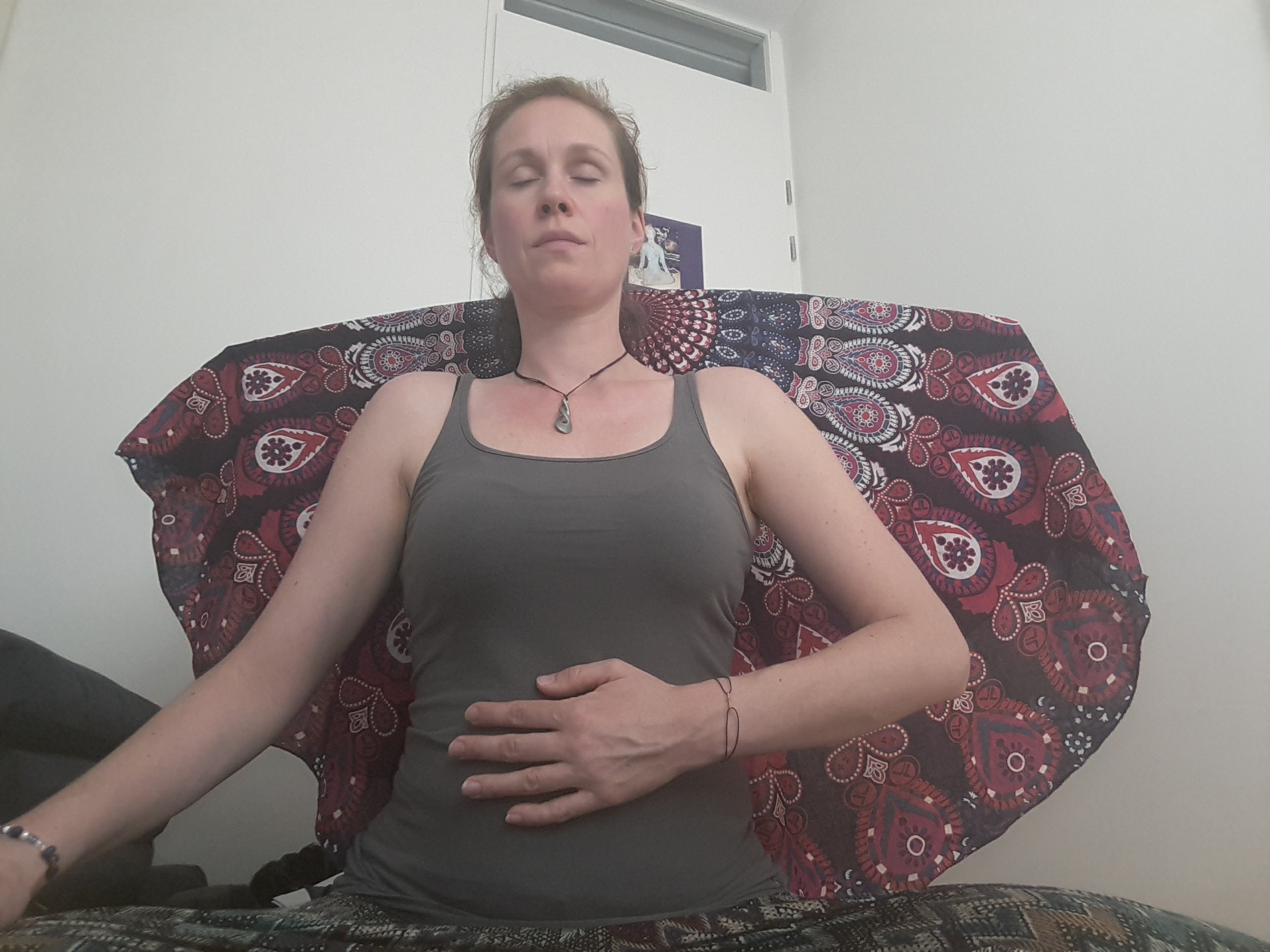 ingeademd, middenrif naar buiten

Heb jij moeite om geconcentreerd te blijven tijdens je meditatie? Dan kan de kapalabathi-ademhaling uitkomst bieden. Kapala betekent schedel en bhati schijnend of helder. Het wordt vertaalt als heldere schedel of glansschedel. Deze krachtige ademhalingsoefening heeft een reinigende werking op lichaam en geest en maakt je helder in je hoofd waardoor je concentratievermogen verbetert. Maar deze oefening doet nog veel meer.
Lichamelijke voordelen
reinigt de neusholten, bijholten en longen
vergroot de longcapaciteit en versterkt de tussenribspieren
verbetert zuurstofopname
wekt energie op en maakt actief
reinigt het bloed door de vergrote opname van zuurstof
de buikbeweging reinigt en stimuleert de werking van de lever, milt, maag, hart en alvleesklier
versterkt de buikspieren
activeert de darmen


Mentale voordelen
maakt je hoofd leeg en helder
vergroot je concentratievermogen
extra zuurstofopname stimuleert de hersenen
verbetert je prana (levensenergie)
laat energie van het derde chakra beter stromen



Doe je mee?
Ga dan zitten in een houding waarin jij goed rechtop kan zitten. Dat mag ook op een stoel zijn.
Voel hoe je adem naar binnen en naar buiten stroomt.
Trek als je uitademt de spieren onder je middenrif actief naar binnen tot je helemaal uitgeademd bent. Leg eventueel je hand tussen je navel en onderkant van de ribbenboog en duw dit deel zachtjes naar binnen en omhoog.
Laat op een inademing deze spieren weer terugveren. Je longen zuigen dan vanzelf nieuwe zuurstof naar binnen.
Laat de inademingen steeds sneller op elkaar volgen. Er ontstaat een pompende bewegingen die de adem naar buiten stoot.
De inademingen worden hierdoor steeds korter.
Oude lucht wordt naar buiten gestoten en opgeruimd. Er komt meer ruimte voor nieuwe zuurstof.
Begin met series van 10 stotende ademhalingen, adem tussendoor twee keer door. Uiteindelijk kun je de series steeds langer maken, tot wel 100 per keer.
Blijf na de oefening even met gesloten ogen zitten om de uitwerking te voelen. Je kunt ook meteen doorgaan met je meditatie.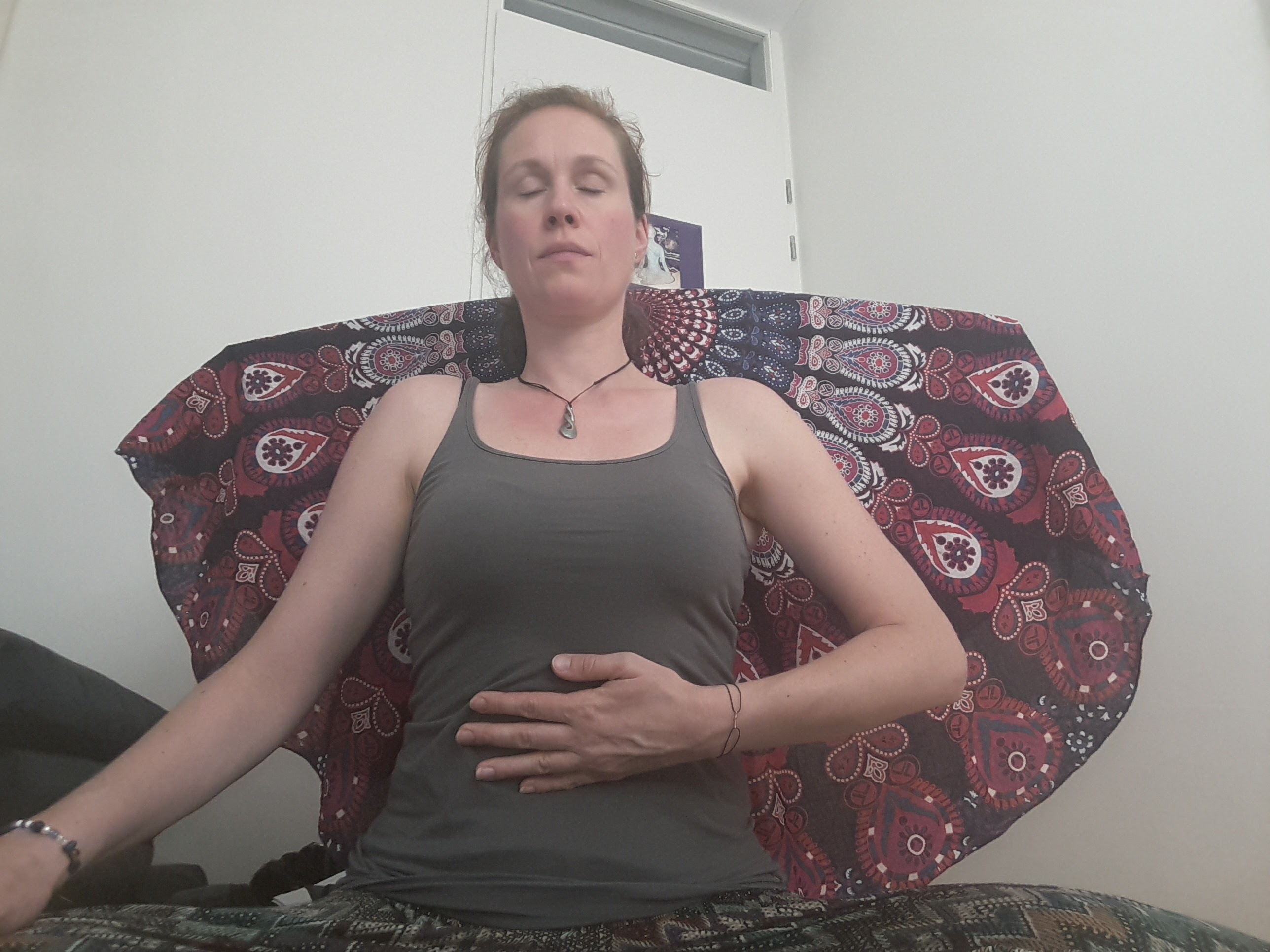 uitgeademd, middenrif naar binnen en omhoog

Let op
De helderheid in je hoofd kan als lichtheid voelen, maar mag geen duizeligheid zijn. Houd dit altijd goed in de gaten.
Als je zwanger bent kun je deze oefening beter vermijden.
Stop de oefening als deze niet goed voelt.
De kapalabathi kan verlichting brengen bij astmatische aandoeningen, maar doe deze nooit tijdens een aanval of als je het benauwd hebt.
Doe de oefening niet voor je gaat slapen
Het is een verwarmende oefening. Doe daarom voorzichtig bij warm weer.
Let bij de uitvoering op dat je de spieren boven de navel naar binnen en naar boven trekt. De spieren rond en onder de navel doen niets. Die veren alleen mee, maar span je niet aan.
Het kost tijd om deze oefening goed uit te voeren. Oefen hem regelmatig, maar forceer het niet. Probeer eens hoe het is om na deze oefening te mediteren. Ik ben benieuwd of je verschil merkt. Laat het me weten of vraag me om advies als het niet lukt. Succes!
Categories: adem, meditatie, concentratie
/