Shopping Cart
Your Cart is Empty
There was an error with PayPal
Click here to try again
Thank you for your business!
You should be receiving an order confirmation from Paypal shortly.
Exit Shopping Cart
Yoga 4 Everybody in Arnhem

Yoga for everybody and every body
Hatha yoga
Kinderyoga
Yoga in het park
Fast pilates
Holistische reiki
Luisterkind

| | |
| --- | --- |
| Posted on November 14, 2017 at 4:15 AM | |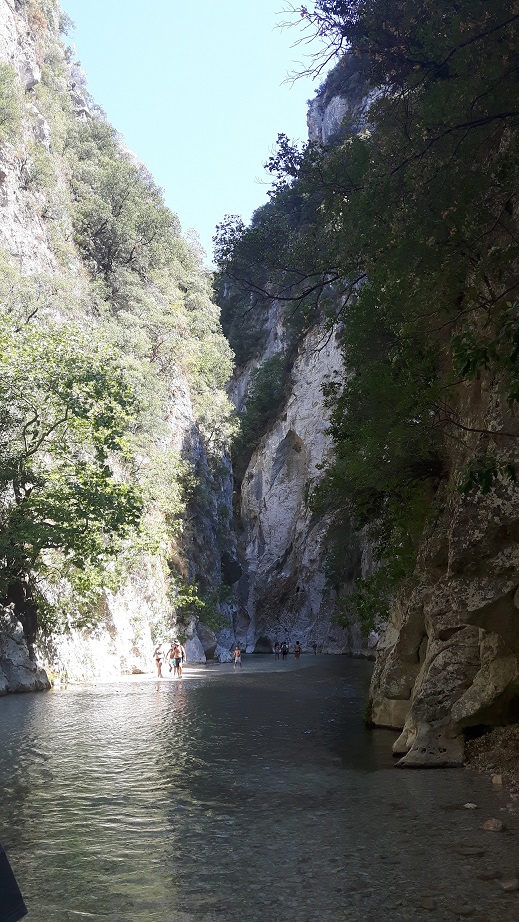 Precies op 1 september stopte ik met mediteren. Daarvoor mediteerde ik (bijna) iedere dag en was ik tot de conclusie gekomen dat dit heel goed voor me was. Al begon ik tijdens het mediteren vaak te bedenken wat ik daar dan over kon schrijven. Dat werkte frustrerend en zelfs een beetje demotiverend.
Toen we eind augustus op vakantie gingen heb ik dat nog vier dagen volgehouden en daarna ben ik er acuut mee gestopt. Ik miste het ook niet. Het lukte me deze vakantie om alle ervaringen en indrukken van de afgelopen tijd te laten bezinken en te kiezen voor wat ik nodig had. Dat voelde als een voortdurende staat van meditatie. Of misschien wel een gevolg van meditatie.
De Archeron-rivier 
Misschien had het bezoek aan de magische Archeron-rivier (rivier de Styx) er ook iets mee te maken. Nu ik mijn dagboek nalees zie ik dat we daar op donderdag 31 augustus zijn geweest. De dag erna had ik geen behoefte meer aan mediteren. 
Het water uit de bron van deze rivier zou helende krachten hebben en wie ervan drinkt zal eeuwig leven. Dat lijkt me wat hooggegrepen, maar als je gelooft dat het leven niet stopt bij de dood leef je inderdaad eeuwig. Het is maar net hoe je het bekijkt. Wij hebben allemaal het water gedronken dat als kleine watervallen rechtstreeks uit deze bijzondere bron omlaag stroomde.
Of dit speciale water heeft iets gedaan. Of al het mediteren heeft iets gedaan. Of ik gebruik dat allebei als excuus om niet te mediteren. Er is in ieder geval iets veranderd.
Ook los van de uitwerking van het rivierwater raad ik een bezoek aan deze rivier van harte aan. Het is er prachtig en door de rivier waden is een heel bijzondere ervaring. Maar ik weet ook dat mediteren bijzonder én goed voor me is.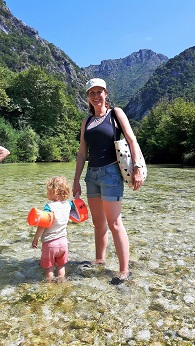 Mijn conclusies na ruim 8 maanden dagelijks mediteren zijn:
Ik word er rustig van
Hoe vaker je mediteert, hoe makkelijker je in die rustige staat komt.
Het brengt helderheid in mijn hoofd
Mijn concentratievermogen is beter
Ik ben geduldiger
Ik heb minder last van dingen die me anders storen
Ik rust uit tijdens een meditatie
Er komen goede ideeën naar boven
Mijn gedachten worden geordend
Ik mediteer nu soms korte momenten. Soms tien ademhalingen lang, soms in een yogales die ik volg, of vlak voor ik ga slapen tot ik in slaap val. Mijn conclusie bevestigt meteen wetenschappelijke onderzoeken (niet andersom) die aantonen dat mediteren goed voor jou -en zelfs je omgeving- is. Ik ga ermee door. De ene keer wat intensiever dan de andere. Maar ik schrijf er geen verslag meer over. Dat leidt te veel af. Ik ga het alleen nog maar ervaren.
Net als een bezoek aan de Archeron-rivier brengen, raad ik iedereen ook van harte aan om te onderzoeken wat meditatie met jou doet. Begin met je adem volgen, kies een geleide meditatie of kom naar een yogales. Je kunt bij mij ook privélessen volgen of intensief aan een situatie werken met yoga-coaching. Ook tijdens reiki (en yoga) kunnen we aandacht besteden aan meditatie. Kies wat bij jou past! Ik ben benieuwd naar jullie ervaringen.
Categories: iedere dag mediteren, meditatie, verandering
/