Shopping Cart
Your Cart is Empty
There was an error with PayPal
Click here to try again
Thank you for your business!
You should be receiving an order confirmation from Paypal shortly.
Exit Shopping Cart
Yoga 4 Everybody in Arnhem

Yoga for everybody and every body
Hatha yoga
Kinderyoga
Yoga in het park
Fast pilates
Holistische reiki
Luisterkind

| | |
| --- | --- |
| Posted on March 19, 2018 at 8:15 AM | |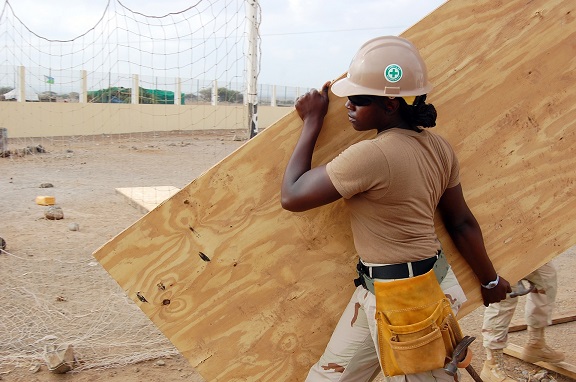 Fysiek zwaar werk heeft zijn weerslag op je lichaam

Ik zat vorige week in het winkelcentrum te kijken naar een aantal glaszetters die een grote ruit moesten vervangen. Zwaar werk lijkt me dat. Ik zag eentje een beweging maken of zijn rug pijn deed. 'Zij hebben yoga op het werk nodig', dacht ik meteen. Dus gaf ik ze wat flyers en zei dat hun werkgever mij maar even moest bellen. Dat zagen ze wel zitten. Of hun werkgever er ook zo over dacht betwijfelden ze nog.
Toen zei ik dat ze ook mee kunnen doen met filmpjes op mijn site en Facebook-pagina. Die duren nog geen 10 minuten. Je hoeft de deur niet uit, je moet er alleen maar even tijd voor maken. Maar dat is juist het probleem. De tijd ervoor vrijmaken. Een van hen had problemen met zijn rug die hij door het werk op had gelopen. Massages hielpen wel, al had hij daar vaak niet eens de tijd voor.

Wat levert yoga je op?
Hoe kan het toch dat we vaak geen tijd kunnen vinden om kort yoga of iets anders wat goed voor je is te doen? We vinden het doodnormaal dat we allerlei werkgerelateerde klachten hebben of constant stress ervaren. Daar willen we van af. We weten alleen niet hoe. Ik denk dat het niet lukt omdat we het zo gewend zijn. Vaste gewoonten afleren is een van de moeilijkste dingen die er is. Wat je hierbij kan helpen is juist yoga onder werktijd. Veel mensen denken dat het verloren tijd is. Die mensen hebben waarschijnlijk ook nooit voldoende tijd gehad om het een tijdje uit te proberen. Het levert je namelijk een hoop op.
Zeker voor mensen met een fysiek beroep kan het ziekteverzuim er flink mee teruggedrongen worden. Ze maken en houden hun lichaam flexibel en sterk en vooral rug- en nekklachten kunnen er flink mee verminderd of zelfs voorkomen worden. Als je het maar doet. Dat gaat nu eenmaal het makkelijkst als het deel van je dagelijkse routine is, oftewel, van je werkdag.
Deelnemers van mijn vaste yogagroep bij een bedrijf doen regelmatig 45 minuten yoga. Niet eens iedere week, maar al wel langere tijd. Een vrouw van eind 40 zei dat ze haar hele leven nog niet zo soepel was geweest. Haar rug voelde beter aan dan in de jaren ervoor. Zij heeft zelf ervaren wat yoga voor je lichaam kan doen. Het brengt ook rust in je hoofd. Heel belangrijk in de drukke wereld met vaak hoge werkdruk van nu. Mensen vallen niet voor niets regelmatig om. Daardoor wordt de werkdruk voor de anderen weer hoger en na verloop van tijd is het eind zoek.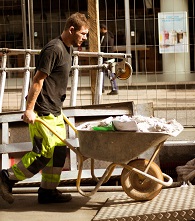 Een beetje yoga kan geen kwaad na dit zware werk

Yoga tussen de bedrijven door
Yoga helpt om dit te voorkomen en om mensen sneller te laten herstellen van psychische of lichamelijke klachten. Niet alleen voor de fysieke beroepen. Ook mensen die veel zitten hebben hier veel baat bij. Ik ben benieuwd of ik nog iets van deze glaszetters hoor. Hopelijk doen ze in ieder geval een keer mee met de oefeningen in mijn filmpjes. Alle beetjes helpen. Heel veel beetjes door de dag heen nog meer. Lees hier hoe je heel makkelijk yoga tussen de bedrijven door kunt doen.
Categories: bedrijfsyoga, ontspanning, yoga op het werk
/